Our protected blue lagoon waters offer the perfect setting for exploring the inner reef straight off the beach.
Our protected blue lagoon waters offer the perfect setting for exploring the inner reef straight off the beach.
There is healthy and diverse marine life with resident eagle rays, turtles, reef fish of all sizes and coloured corals.
Feel free to explore it all via snorkelling, kayaking or stand up paddle boarding. We have all the gear to get you sorted.
Snorkelling, Stand up paddle boarding (SUP) & Kayak tours can be arranged for those wanting to go further abroad. There is stunning reef all around Qamea so whether you want to explore it from above or below the water, we can take you there. There is also magic snorkel tour to nearby shipwrecks and reefs, secluded bays and beaches and magical day trips to explore. To support local Fijian Business' we use local operators for all of our transfers and activities.
.
Surf Trips
For surfers there are clean small right and left hand breaks right out front. The beach breaks are better for long boards and SUPs, with the larger breaks a 5min boat ride out to the outer reef.
The famous Qamea Island right hander is a short 5min boat ride, straight out from Waruka Bay to the outer reef. Arguably the best break in Fiji behind Cloudbreak & Frigates. This break works better from October through to May when the trade winds aren't blowing it out but also works during the middle of the year when the winds swing around to the North. Generally speaking, the swell is bigger from June through to September, but cleaner from October to May. Boat costs are variable depending on how many people are sharing the ride.
Hiking & bird watching at Waruka Bay
With 76 acres of rainforest to explore take one of the many trails around the site to see all that this beautiful bay has to offer. The trails run from the rear of your accommodation transporting you through rainforest, bridge crossings over the inland lake, past the organic vege farm and down to the bar and restaurant. The lookout trails rising up the hills at the rear of the property offer scenic views across Qamea island and back to Taveuni. The property acts as a veritable atrium offering sanctuary to a number of rare and endangered Fijian bird species, the most notable being the Fijian Orange Dove. Other aves calling Waruka home include Pacific Parrots, Blue Kingfishers, Spotted Turtle Doves, Golden Plovers, White Breasted Swallows, Crested Terns, Collared Lorry, Reef Herons, Hawks, Owls and fruit bats.
Full Body Relaxation Massage: Let yourself completely unwind with our Fijian masseuse Lusia.
Bouma National Park & Waterfalls: The half day trip to Bouma is a must see excursion. The Park boasts three separate, all equally impressive, waterfalls, with well kept, stunning walking trails showcasing the native flora of Fiji. There's good sized rock jumps and plenty of fresh water swimming holes along the way. The trail heads up over the mountain lookout with vistas back to Qamea & Waruka Bay.
Lavena Coastal Walk & Waterfalls: Most travel guides suggest this to be the "must do" activity whilst in Qamea & Taveuni. Our tour drops you off at the start of the walk which takes in a series of beaches, bays & coastal villages before reaching amazing waterfalls. Take a plunge in the refreshing waters and swim under these pristine falls. We then pick you up by boat at the end of the trail and explore nearby waterfalls flowing straight into the sea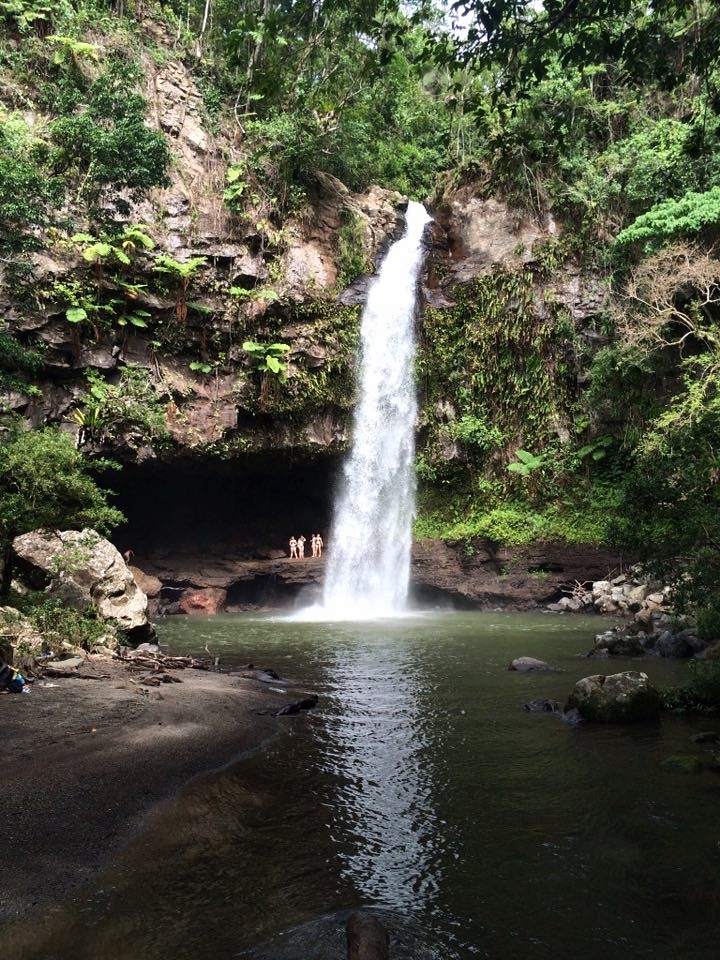 Snorkeling Tours: For those not wanting to go scuba diving we can explore nearby reefs with snorkelling tours
Explore nearby secluded bay and beaches: Want total privacy? get dropped off at a secluded beach with a picnic lunch, snorkelling equipment and watercraft, a few bevies and tunes... Explore paradise on your own.
Fijian Fishing Tours: Half day tours take in the local hot spots around Qamea. Catch your own dinner and learn about the local fishing spots. We can put you in touch with a local operator to suit all budgets from Big Game fishing to
A taste of everything: Try your hand at fishing whist on the way to secluded bays, great snorkel spots and picnic lunches.. Combine all tours into one half day trip for the best of both worlds.
Village Tours: Guests are invited to visit the local Fijian village of Kocoma. The majority of our traditional building materials came from this village and our staff are both happy and proud to show you where they call home. During the tour you'll experience traditional handy craft & weaving practices, local fishing methods, a village lunch, village music and undoubtedly asked to sit for a bowl of Kava or two... Many guests bring stationary or books to drop off to the local school as a donation..
All tours are discounted for groups & families.